Time
IST
9:30 PM - 10:30 PM
Dolby Atmos Creation: A Deeper Dive
Prerequisite
Familiarity with surround audio productions and Dolby Atmos immersive audio format.
More details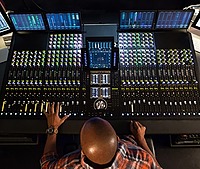 In this edition of our Dolby Atmos content creation webinar series, we'll discuss the highlights of our brand new Dolby Atmos Best Practices guide, which was written in collaboration with several of the most experienced Dolby Atmos mixing experts in the industry. Hear how the Dolby Atmos Best Practices guide shares tips and techniques relevant for production, post, mixers and delivery.
We are also hosting an extended Q&A session with a panel of Dolby experts – a product manager, a music specialist, and an all-around customer support expert, to answer more of your questions from our previous "Dolby Atmos Why & How" and "Dolby Atmos Deep Dive" webinars.
Speakers:
Tom McAndrew – Sr Technical Manager, Content Creation
David Gould – Director, Audio Content Solutions
Ceri Thomas – Content Solutions Product Manager, Music
Adam Pinch – Sr Staff Solutions Engineer
We hope to see you there!
---